Fence Installation Melbourne
Welcome to Top Fencing Melbourne! We are your best choice for Melbourne fencing. We are one of Melbourne's best fencing companies & contractors available. We provide a premium service and can provide a wide range of options and associated services. Count on us to do a great job!

Types of fences
We can install and repair a wide range of styles including timber, both pailing and picket, Colorbond, galvanized or LLDPE-coated steel wire, tubular, chain mesh, plastic and other types of residential options. These can also be integrated with a retaining wall. We can also install commercial and hoarding barriers. Need custom options, not a problem! We aim to please no matter what the job!

We can assist metropolitan Melbourne's northern, eastern and western suburbs with all its picket, cyclone, timber and acoustic fences among other needs. This also includes gate installation and repair.

Fencing Company Melbourne Solutions
We can install all styles. Just select the style that meets your needs.
Timber Pailing
Timber pailing fencing is an economical option when you are on a budget. A timber paling is a cheaper alternative and still looks great! Get a quote on your project!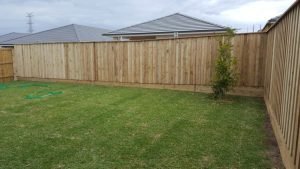 Timber Picket
Timber picket fencing can look great, especially at the front of your home. A range of different sizes, styles, and colours are available and can be installed integrated with gates.
Merbau
Merbau fences are great feature option around your home or property. Merbau is a versatile timber that works well with most homes. It is often used in privacy screening.
Colorbond
Colorbond Fencing is another great option. Colorbond comes in a wide range of colours, styles and heights. You can find a colour and style to match your home. Contact us about Color bond fencing. Colorbond gates are also available. 
Metal (Aluminium, Wrought Iron & Steel)
Do you want a metal such as Wrought iron or steel fence? Aluminum or steel fencing for your property border or pool? Get a quality pool barrier installed to protect your family and friends.
Chain Link
We can install chain link fences. Range of sizes and styles available. Common applications include:
Sports grounds and facilities

Perimeter barriers for commercial and industrial sites

Utilities: water, gas, electricity

Rail

Education

Airports
Fencing and Gates
You may also need or want gating services. We can match the style to your fence. Contact us about gate installation. We can assist with:

steel gates (including frames);
wrought iron gates (find out about custom designs and prices);
aluminum gates (find out about costs and styles)
timber gates (e.g. timber side, pailing)
driveway gates (including sliding driveway gates, cheap driveway gates, timber driveway gates, aluminum driveway gates, aluminum single swing driveway gates, electric & automatic gates for driveways);
modern gates (new designs and styles to match the modern home)
security gates (folding and sliding security gates);
garden gates (metal & wood);
front fences and gates
Automatic Electric Gates
If you want to go a bit more high tech you could opt for an automatic electric gate. Depending on your property a swing or sliding automatic gate may be best.
Quality Fence Contractors Melbourne
We aim to provide the most professional services in Melbourne to homeowners, builders, developers, commercial property owners and leasers.

Fencing can be one of the last things that you get done when you are building a new home. However, getting a new fence built does not need to be a chore. We aim to make the entire process as smooth and seamless as possible.
Servicing greater Melbourne!
About us
Melbourne Fence Installers
We aim for great customer service! We can supply all of your fencing and gating needs. We are highly recommended! I am sure that you would recommend us to your friends and family.
We service Melbourne Vic and surrounding areas.
Contact us to get a quote for your project!
We use quality materials!